Petition asks Governor to come to Moffat County prior to secession vote
http://www.craigdailypress.com/news/2013/sep/10/petition-asks-governor-come-moffat-county/
Petition asks governor to come to Moffat County prior to secession vote

By Erin Fenner
Updated September 10, 2013 at 3:50 p.m.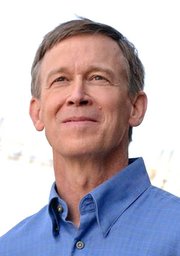 John Hickenlooper
Craig — Craig resident Frank Moe requested that Gov. John Hickenlooper visit Moffat County to discuss various concerns that constituents in rural Colorado have about the state's current political climate.
Moe's request comes in the form of a petition, asking the governor to visit northwestern Moffat County before the November election when Moffat County residents will vote on potentially seceding from Colorado.
Hickenlooper received the invitation, and his scheduling office is checking his availability, said Eric Brown, director of communication for the governor's office.
In late August, Moffat County commissioners voted, 2-1, to put the secession question on the November ballot.
Moffat County residents have mixed feelings about the issue. Some think it's an essential move toward starting a conversation with densely populated portions of Colorado. Others think it will do the opposite: damaging chances at having an open dialogue about the different issues that rural and metro areas come up against.
Moe, owner of the local Best Western Inn, wants people on both sides to talk about what this means for the area.
He hopes that a visit from Hickenlooper will give residents a chance to get the Front Range perspective, while letting the governor know some pressing rural issues.
"We need to see why they feel the way they do," he said.
If the governor came to the area for town hall-style meetings, Moe said it would give the community a chance to express its concerns.
"Moffat County needs every voice we can to make it safe for our neighbors," he said.
Moffat County Commissioner Chuck Grobe said he thinks this is a good idea. While he was the only commissioner who voted against putting secession on the ballot, he thinks it's an opportunity to confront some challenges.
"I hope we have an open dialogue with (the governor) and don't nail him to the wall," he said. "We could see if we could get him to openly look at our area and show him what we have and what we have to lose."
Moe mailed an invitation, made an online request, sent a Facebook message and even tweeted the governor, asking him to come to Moffat County.
"I'd try sky-writing it, but I don't think I could afford it," Moe said.
While he isn't officially in support of or against secession, Moe hopes that it turned the governor's head.
Communication with the Front Range has proved challenging for Moe.
"If people have personally not dealt with the governor, Legislature or bills that affect our area, it's easy to say, 'Keep communicating,'" he said.
This would be an opportunity for Hickenlooper to show he will pay attention to rural Colorado, Moe said.
So far, 40 people have supported the petition. Each time a person signs it, an email is sent to the governor's office.
Erin Fenner can be reached at 970-875-1794 or efenner@CraigDailyPress.com.